Categories:
Archives:
Links:
Meta: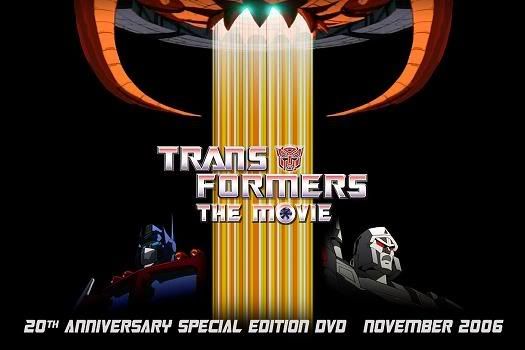 Straight-up pr jibber jabber:
SONY BMG Entertainment today is announcing the creation of the TRANSFORMERS: THE MOVIE 20TH ANNIVERSARY SPECIAL EDITION DVD, which will hit retail in November.
Packed with exclusive special features to commemorate the 20th anniversary of the animated classic film, the DVD release is timed to the debut of a TRANSFORMERS Classics line of figures.
The 20th Anniversary Special Edition DVD includes never-before-seen footage, exclusive interviews, interactive games and collectible packaging. The film features the voice of Orson Welles in his final role, as well as stars Eric Idle, Judd Nelson, Leonard Nimoy, Casey Kasem, Robert Stack, John Moschitta, Peter Cullen, and Frank Welker. The DVD also features a winning soundtrack featuring the iconic theme "The TRANSFORMERS" performed by Lion, and the popular "The Touch," performed by Stan Bush.
For more information on TRANSFORMERS: The Movie 20th Anniversary Special Edition DVD log onto www.TRANSFORMERSthemovieDVD.com
To coincide with the special edition DVD release, this fall Hasbro will pay a special tribute to the rich history captured in the saga that is MORE THAN MEETS THE EYE with the TRANSFORMERS Classics line of figures. Available in November 2006, these new figures will feature updated versions of the first generation of TRANSFORMERS (or "G1"), inspired by the look and spirit of the original figures and characters.
Posted by Tim Leong on May 30th, 2006 filed in
Blog
,
Press Release
|