Categories:
Archives:
Links:
Meta: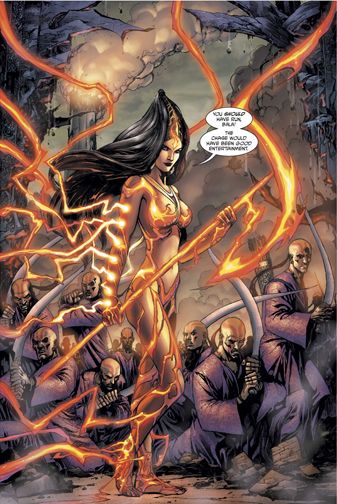 Virgin Comics will introduce Devi today, and The Sadhu tomorrow, May 23. The previews being released include several pages of final art and lettered pages from the first issues of each story.
Devi (pronounced day-vee), is the mysterious story of the warrior goddess Devi and the battles she fights that no one ever sees. This modern take on a very ancient myth was created by acclaimed film maker Shekhar Kapur (Elizabeth, Four Feathers). Devi #1 goes on sale at comic shops on Wednesday, July 12.
"The preview pages for Devi are being released simultaneously at Virgin Comics' headquarters in New York, the Virgin Comics and Virgin Animation studios in Bangalore, India, and at Virgin offices in London. We are delighted to at the forefront of story telling for comic book fans in every time zone," said Virgin Comics CEO Sharad Devarajan.
"Virgin Comics Issue Zero" a free 24 page introduction to Virgin Comics will be released at comic book stores and Virgin Megastores on June 28.
The Sadhu will be in stores on July 26. Snakewoman – Virgin Comics first release from their Director's Cut line – will debut on July 19.
Posted by Tim Leong on May 22nd, 2006 filed in
Blog
,
Press Release
|